We are delighted to announce that Jack Berry has completed his apprenticeship with Aptus Utilities and will now be working on a development plan towards becoming a Health and Safety Advisor.
Jack is a great ambassador for apprenticeships and his achievement shows that by joining a company as an apprentice you can have an important and valuable role to play.
Jack joined Aptus on a business administration apprenticeship through Bolton College in May 2019 and immediately made an impact with his positive approach and eagerness to learn.
He was placed within the HSQE department in an administrative support role, but quickly established himself as 'a Health and Safety team player', according to Health and Safety Advisor Hayley Barker who has been involved with overseeing his development.
Jack rapidly became an integral member of the team, valued for his aptitude for recalling incidents and his ability to analyse and recognise trends. This has directly resulted in the team being able to implement changes and streamline health and safety protocols.
Hayley says that Jack has fully embraced his role and gained a reputation for his boundless enthusiasm, tenacity and attention to detail. His personal attributes and ability to build strong relationships and support colleagues has also been noted.
She described him as: "Really eager to learn and a very quick learner with an impeccable memory. He absolutely lives and breathes health and safety and throws himself into any task you give him with great conviction.
"He will be a fantastic Health and Safety Advisor, someone who will garner much respect for getting the job done and being thorough."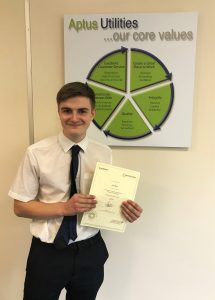 Talking about his experience, Jack said: "The apprenticeship has been excellent and I have learned all sorts of new things that I never thought I would come across. Aptus have welcomed me in and have seen great potential in me to progress me into the business for the next five years.
"With college itself, it was a beneficial experience and I have learned a lot with regard to how things are done within a business. I thank my colleagues, my manager and my tutors who have given me the experience and have pushed me to do my best within work and college.
"Going forward now with Aptus, I hope to become a fully qualified Health and Safety Advisor, and with the help of my colleagues and my superiors, I will get there and will not give up, no matter what obstacles come my way."
His positive experience has made Jack a huge advocate of apprenticeships. He said: "I would highly recommend a business administration apprenticeship through Aptus and Bolton College as the support and experience that I have been given at such a young age is impeccable. You are also earning whilst you're learning which is obviously a bonus! I would be more than happy to encourage school leavers to go down the apprenticeship route."