Aptus Utilities has made it into The Sunday Times Virgin Fast Track 100 as one of the fastest growing businesses in the UK.
The 20th anniversary edition of The Sunday Times Virgin Fast Track 100 league table ranked Britain's private companies with the fastest-growing sales.
Aptus Utilities is a new entrant, placed at 66th, and one of 13 North West businesses to enter the list in 2016. The company saw annual average sales rise by 60.49 per cent over three years, to achieve nearly £20m turnover by March 2016.
Aptus Utilities Managing Director Jonathan Holden said: "Aptus Utilities' entry into The Sunday Times Virgin Fast Track 100 further cements our position as one of the region's leading multi utility providers. Through our first-class service delivery we play a major role in expediting project completions that enable our construction industry clients to meet their targets. We know that our approach has made a significant impact in the six years we have been in operation, on companies in Bolton and throughout the North West, and we are fully equipped to build on this strong position moving forward into 2017."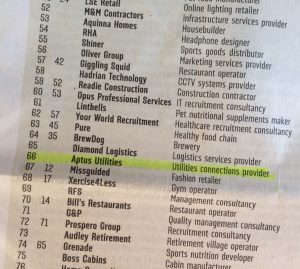 The Fast Track 100 is sponsored by Virgin, Barclays, BDO, BGF and Virgin Media Business, and is compiled by Fast Track, the Oxford-based research and networking events firm.
Sir Richard Branson of Virgin, the title sponsor for all 20 years, commented: "For 20 years, the Fast Track 100 has checked the country's entrepreneurial pulse, and highlighted the best and brightest talents emerging from the UK – this year is no exception. When I started up in business almost 50 years ago, the word entrepreneur wasn't really known. Now everyone knows entrepreneurs are the job makers and innovation stimulators of the world."
This year's Fast Track 100 achieved, on average, sales growth of 67 per cent a year over three years to a total of £3.3bn. Together they employ 19,400 staff, having added 14,200 jobs over the period.