Aptus has made a third consecutive appearance in the Greater Manchester Fastest 50 list, which was announced this May.
The Ward Hadaway Greater Manchester Fastest 50 highlights and celebrates the achievements of fast-growing, profitable companies in the region by publishing an annual list of the 50 fastest growing privately-owned businesses across Greater Manchester, and is backed by Manchester Evening News.
This is a third year in the top 50 for Aptus Utilities after achieving three years of strong turnover growth whilst still remaining profitable.
In May, the company moved to new headquarters quadrupling its office space in anticipation of significant growth across its North East and Midlands operations.
Managing Director Lisa Kerford said: "We're delighted that Aptus Utilities has made the Ward Hadaway Greater Manchester Fastest 50 list for a third year running. With our recent expansion into new headquarters and a new depot opening in the Midlands, we expect the pattern of growth to continue and look forward to bringing further employment and jobs to the region."
Paul Johnson Executive Partner at law firm Ward Hadaway's Manchester office, commented: "We would like to congratulate Aptus Utilities and every company in the Ward Hadaway Greater Manchester Fastest 50 for 2018 for their successes in making this year's list.
"The Fastest 50 shows what tremendous companies we have in the region and underlines what a great place Greater Manchester is to do business."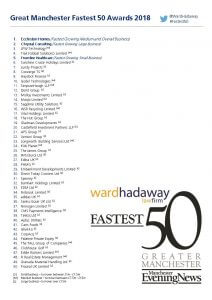 In 2016 Aptus Utilities came second in the large business category and third overall. In 2017 Aptus entered at tenth overall and sixth in the large business category. Registering in the top 50 for a third consecutive year is a great measure of the company's continuing successful growth across all areas of the business.
Read more about the GM Fastest 50 2018 here.