Aptus attended the Greater Manchester Fastest 50 ceremony on Friday 10th May to find out where we ranked among the region's fast-growing companies.
This is the fourth year in a row that Aptus has been shortlisted for the Fastest 50, a list which is compiled annually by law firm Ward Hadaway to celebrate and highlight the most successful businesses driving the regional economy.
Last year we entered in 40th place, which is a considerable achievement given that it was our third year in the list. This year the company has entered in 29th place, jumping 11 places and demonstrating the continued strength of our business model.
Aptus Utilities first entered the Fastest 50 in 2016 after more than trebling turnover between 2013 and 2015, and were announced as the second fastest-growing company in the large business category and third fastest-growing overall.
Four years on and both turnover and profit have continued to rise, reflecting the company's cementing of its position as the North West's multi utility marketplace leader and indicating growth in our Midlands and North East operations.
Support Services Director Natasha Clarke said: "To be listed for the fourth year in a row in the Greater Manchester Fastest 50 is an achievement in itself, but to jump 11 places in this time is an incredible accolade for the whole team.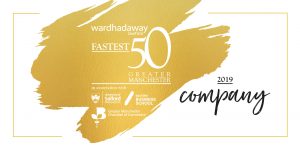 "We're proud to be named among the Greater Manchester businesses that are creating jobs, driving growth and making a valuable contribution to the vibrant regional economy.
"We have an ambitious strategy for developing the business and will be looking to recruit across all our departments to ensure we continue to have the level of skill and expertise necessary to implement our exciting future plans."
The Greater Manchester Fastest 50 list has been compiled using data which is publicly available at Companies House before being independently verified. You can read more about the awards and entry criteria here.