We are delighted to announce that Aptus Utilities has been named as a finalist at this year's prestigious Housebuilder Awards.
The company is up against six shortlisted contenders in the Subcontractor/services provider of the year category and will take part in a special virtual ceremony in December, when the winner will be revealed.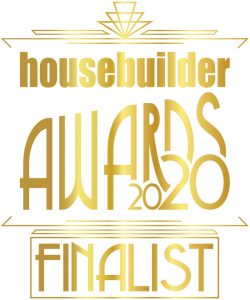 The Housebuilder Awards are the industry's official awards, established by Housebuilder magazine and the Home Builders Federation (HBF), in partnership with the National House Building Council (NHBC).
Awards will be presented in thirteen categories and will recognise the efforts and achievements of housing developers, contractors and related professions in areas such as design, customer satisfaction, regeneration, sustainability, training and recruitment.
In March 2020 we celebrated our 10th birthday and marked a decade of sustained growth in which Aptus Utilities has cemented its position as one of the UK's leading multi utility service providers.
During this time the company has played an increasingly significant role supporting the housebuilding industry with its cost-saving, tailored solutions in the design, build and installation of multi utility networks including gas, water, electric, fibre and street lighting.
As the company continually seeks to innovate and respond to market demand we are constantly adding to and improving our portfolio of services in line with technological and industry developments. This advanced multi utility capability, combined with a reputation for excellent customer service, sets us apart from competitors and has been pivotal to our growth.
In April the company posted increases in turnover, forward orders and contracts awarded, demonstrating the level of market confidence in our model and the strength of the company's position heading into the next phase of our five year growth plan.
The company's success is underpinned by a proactive company-wide commitment to customer service and bespoke in-house development and training programmes that support our employees to deliver the best possible service.
The award news comes as a welcome boost for our employees who have been outstanding in their commitment to the company and in adjusting to new working conditions. It is also further confirmation that the Aptus model continues to successfully adapt and respond to changing industry demands.
Managing Director Lisa Kerford said: "To have been shortlisted for this highly respected industry honour is tremendous validation of the team's efforts over the last 18 months and comes as extremely welcome news during what has been a challenging period. We look forward to celebrating virtually with our fellow industry professionals at the Housebuilder Awards in December."
The full Housebuilder Awards shortlist can be viewed here.