London Stock Exchange Group has published its annual report '1000 Companies to Inspire Britain', with Aptus Utilities featuring in the list of the UK's most innovative and inspiring companies for a third time.
The 1000 Companies 2020 report, now in its seventh year, identifies the fastest growing and most dynamic small and medium sized businesses (SMEs) across the UK.
This year marks a third appearance for the company in ten years. Aptus Utilities previously featured in the report in 2017 and 2018. Businesses that made the list achieved strong revenue growth over the last three years and significantly outperformed their sector peers.
The companies listed this year recorded an annual average revenue growth rate of 41.2 per cent. They collectively created more than 42,000 jobs in the two years to December 2019.
In the UK private sector, SMEs account for around 60 per cent of employment and over 50 per cent of turnover.
LSEG worked with research partner Beauhurst to create the unique list of the UK's most innovative SMEs. The methodology combines key financial performance indicators and sector benchmarks.
The LSEG report also highlights the regional and sector diversity of the UK's SMEs and celebrates their entrepreneurial spirit. The top performing sector is once again engineering and construction, with 173 companies listed. Manufacturing and the food and beverage sector follow with 97 and 81 companies listed respectively.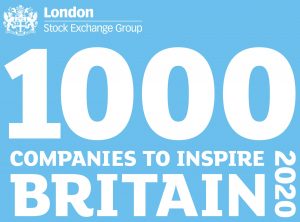 London Stock Exchange Group CEO David Schwimmer said: "This report highlights the vital role of SMEs in driving economic growth, leading innovation and providing jobs across the UK. In this challenging year for businesses, it is more important than ever to shine a light on these stories of resilience and entrepreneurship. The success of UK SMEs is crucial as we rebuild a post COVID-19 economy, and London Stock Exchange Group is committed to helping growth companies achieve their potential."
Commenting on the report, Aptus Utilities Managing Director Lisa Kerford said: "There are 5.9 million private sector businesses in the UK so to be featured as one of the top 1000 inspirational businesses not once, but three times is an achievement everyone at Aptus should be extremely proud of and I'd like to acknowledge the companywide effort behind this success."
Further details on the 1000 Companies to Inspire Britain report and methodology can be found at www.1000companies.com.