This week is Road Safety Week (20-26 November) – an annual campaign organised by BRAKE charity to raise awareness of road safety in schools, communities and amongst employers.
As part of our commitment to support local communities and highlight this issue Aptus Utilities visited St Catherine's School in Newcastle and St Benet's School in Durham to talk to primary school children about how to keep safe near busy roads in winter.
Aptus Utilities' North East Operations Manager Tomás McGleenan and Support Services Director Natasha Clarke showed the children a presentation focusing on ways to avoid danger in the community, which included using the Green Cross Code to cross the road safely and being careful around building sites.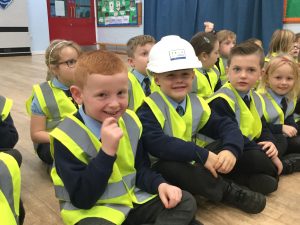 They told the children about the work the company does installing gas, water, electricity and street lighting for new homes and how the workmen on these sites have to wear special reflective jackets to make them more visible.
Aptus Utilities had over 200 similar hi-visibility vests made for the children, who are aged between 3 and 7, to ensure that like our workmen they keep seen and safe during the darker winter months.
Claire Caulfield, Deputy Head Teacher at St Benet's RC School, said: "I think it's a wonderful thing which the company offers and really allowed our children to think about how to stay safe as well as what Aptus Utilities offers the local and wider community."
Road safety awareness is something that Aptus Utilities has been keen to promote after noticing communities where we work become increasingly busy. We began visiting schools giving road safety talks in 2014 and have since distributed more than 1500 hi-vis vests.
Aptus Utilities Support Services Director Natasha Clarke said: "It is part of our daily operations to work on public highways and footpaths so we know the importance of taking the right precautions to keep pedestrians and workers safe. We hope that by donating the hi-visibility vests Aptus Utilities can raise awareness of this issue and keep the children safe this winter."
Pictured: NE Operations Manager Tomás McGleenan and Support Services Director Natasha Clarke with children from St Benet's RC Primary School in Ouston.