Aptus Utilities is proud to be sponsoring Lever Park School Year 7 pupils in this year's Race For The Line competition.
Now in its fourth season, Race For The Line is a national STEM based challenge organised by The Learning Partnership through the Dendrite education platform, which aims to inspire the next generation of scientists and engineers.
The objective is for students to design and build the fastest rocket-powered car possible. Each car uses the same size rocket motor and competes over a 25 metre track. The cars can cover the distance in less than one second so times are recorded in milliseconds for pinpoint accuracy.
In creating the rocket car students face a number of challenges including shaping the foam block into the most aerodynamic and lightweight shape possible, creating efficient wheels and axles which may require the use of laser cutting or 3D printing, and developing accurate ways of measuring the performance of their cars and carrying out the appropriate tests.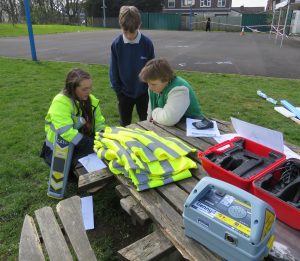 The students get the chance to refine their designs throughout the test stages at school and during the regional and national finals.
Winning cars will be those with the most efficient aerodynamics and have lower mass and safe, well designed wheels that reduce friction and can survive the forces of a high speed run.
Members of our team visited Lever Park this March to watch Years 7 and 8 launch their cars for the first time at the school test stage. During the visit we made a donation of hi-vis jackets to the students and talked to them about our work installing multi utilities. We showed them some of our technical equipment, including a CAT and Genny, which we use to detect hidden cables and pipes.
As first-time entrants to the competition last year the Horwich-based school achieved an impressive eighth position overall. After winning in the regional stages this May, the school is now targeting one of the top spots at the national final, which takes place at Duxford Imperial War Museum this June. The winning team could also net a prize of up to £1,000 worth of STEM products for their school.
Race For The Line is an exciting and engaging way for students to develop their understanding of science, technology, engineering and maths as well as helping to improve communication and teamwork skills. Supporting the school in this initiative is one of the benefits we are pleased to be able to bring to the community as a local business.
Aptus Utilities' Managing Director Lisa Kerford said: "As a company working within this field and growing our own team of young design engineers it is important to be able to support educational efforts to engage young people and encourage understanding of this subject area and its value.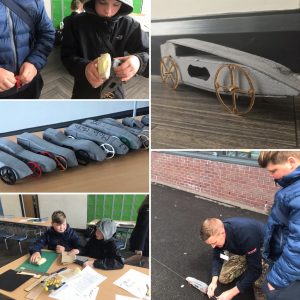 "We have been involved with schools for a number of years, visiting them to talk to pupils about the utilities industry and the work we carry out, as well as delivering hi-vis jackets along with our road safety talks to promote road safety awareness."
Antonio Parziale Design and Technology teacher at Lever Park School said: "Thank you for sponsoring my pupils for the 2019 Season 4. I am especially delighted for involvement of a local company in our adventure. I believe it is very important for businesses to support schools in activities such as the Rocket Car Challenge because this helps make the STEM subjects more relatable for the pupils."