Congratulations to our two electrical design trainees who have graduated this July with an HNC in Electrical Engineering.
Danai and Dylan are both working within our electrical design team and have achieved their HNC through a combination of on the job training with Aptus Utilities and weekly college based learning at Bury College University Centre.
The course took two years to complete, alongside their full-time jobs, and encompassed studies in maths, CAD (computer aided design), health and safety, and engineering principles in both mechanical and electrical disciplines. In addition, they presented a work-based project they had created for their final examinations.
The company has ensured both trainees have met the required industry standards by placing them within a supportive team under the guidance of the department head and closely mentored by an experienced electrical design engineer.
Their new skills, experience and knowledge will grant them more autonomy within their role while their qualifications will help them to progress professionally within a career in electrical engineering.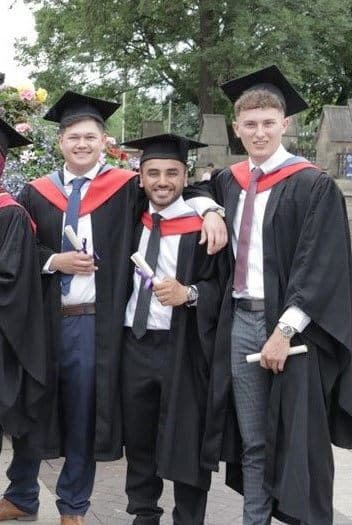 Danai, who began his career with Aptus as a Business Administration Apprentice in 2013, commented: "The qualification has given both of us the opportunity to further progress in our field of work. It helps to achieve a state of competence as an engineer that we wouldn't be able to reach without the qualification and has allowed us to progress our own projects without every scheme required to be audited by our peers and mentors, which is beneficial for everyone."
The graduates took part in a parade through the town with their fellow class of 2018 alumni, before receiving their certificates on stage in front of family and friends during a ceremony at Bury Met Theatre.
Pictured: Danai left, Dylan right.
Photo credit: Bury College University Centre.