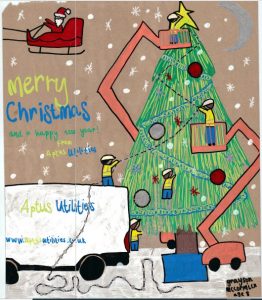 This year, we launched our first Christmas Card Competition to find a design for the annual Aptus Utilities Christmas Card. The competition was open to the families of all Aptus employees, with a prize awarded to the winning artist!
The competition helped to raise funds for charity by charging a £2 entry fee which was donated to Save The Children.
The challenge inspired an array of colourful and festive designs in different mediums, from paintings and crayons to collages – making the task of choosing a winner even more difficult for the judges.
The winning design (above, left) was created by 8-year-old Grayson McCormick – the son of North West Multi Utility Operative Dave McCormick, pictured (below, right) receiving an iPad prize for his son's inventive depiction of Aptus Utilities at work lighting a giant Christmas tree.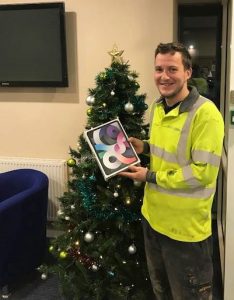 Grayson's imaginative design featured on all the Aptus Utilities Christmas e-cards sent to our customers this year!
The judges were delighted that so many young people got involved in our first Christmas card competition, and were impressed by the standard of entries and talent on display.
We are also pleased to have raised more funds for Save The Children, which we support annually on Christmas Jumper Day.
Take a look at our montage of all the entries below!