Aptus Utilities has been named North West SME Employer of the Year at the National Apprenticeship Awards and will go on to compete at the national finals in London this November.
Aptus was one of 15 finalists to make the shortlist from over 1,100 entries. The finalists in the employer categories were described as 'apprenticeship exemplars, highlighting best practice across recruitment excellence, high quality training practices, diversity and career progression'.
The North West regional ceremony took place in Manchester on 19th September, where awards were presented in categories ranging from Macro Employer of the Year to Apprenticeship Champion and Rising Star.
In total, nine awards were handed to employers and apprentices that had demonstrated excellence in their commitment to apprenticeships.
A wide variety of sectors and industries were represented including schools, local authorities, retail and construction.
Aptus faced competition from Jackson Jackson and Sons Ltd, a Rochdale based construction firm that has been working to provide ex-offenders with employment opportunities.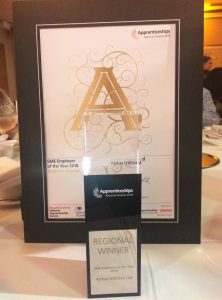 Aptus was recognised for demonstrating an apprenticeship strategy that is having tangible benefits for our organisation with 27 business and specialist craft apprentices progressing to skilled roles that will support our ongoing expansion.
Our most recent apprentice recruits Emily Hampson and Abigail Adamson (main picture) collected the BAE Systems Award for SME Employer of the Year and were fantastic ambassadors for Aptus Utilities and Apprenticeships throughout the event.
Speaking about the award win Support Services Director Natasha Clarke said: "This is a huge achievement for the company overall, all apprentices that we employ and the team that surround and support them, so well done to everyone!"
Aptus Utilities Managing Director Lisa Kerford commented: "The successful delivery of our apprenticeship programme can be credited to a dedicated approach from Aptus in partnership with our training and education providers, and we are delighted that this has been recognised at the National Apprenticeship Awards."
The National Apprenticeship Awards are now in their 15th year and are the most prestigious celebration of apprenticeships across the country. The awards are organised in conjunction with the work of the National Apprenticeship Service and Education and Skills Funding Agency as part of the government's commitment to education and apprenticeships.
Aptus Utilities will go on to compete in the national finals at Old Billingsgate, London, on Wednesday 28th November 2018.
Read more about our entry to this year's awards here. The full list of winners at this year's National Apprenticeship Awards can be found here.